Boasting a simple and intuitive interface, adding new sites to WPBlazer is remarkably simple.
Looking to expand your digital empire? No worries. You can manage an unlimited number of WordPress sites with WPBlazer.
Adding a site
After logging into the WPBlazer app, click the Add New Site button at the top of the page. A popup box displays.
Enter the name of the site and URL.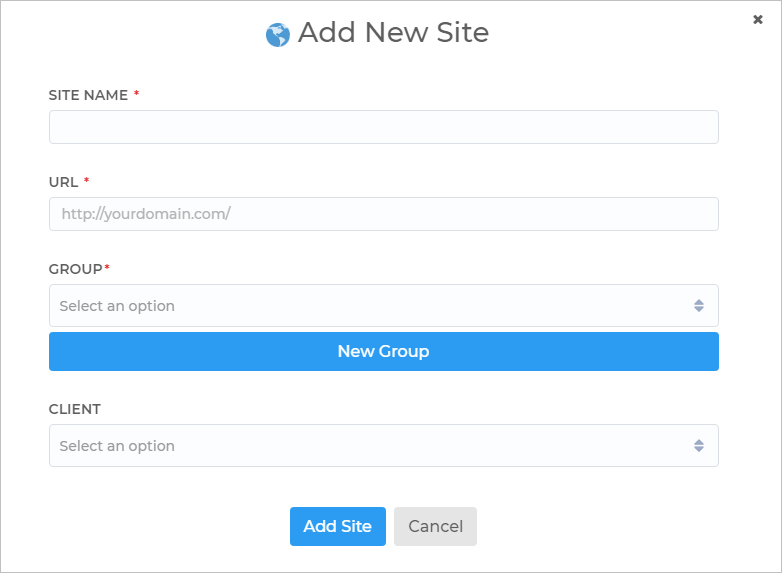 Selecting a group
On the WPBlazer platform, every site connects to a group.
Grouping is a time-saving tool. Quickly launch and complete important tasks, like updating or deactivating plugins, by clicking a couple of buttons.
To add a site to an existing group, click the Group window on the Add New Site Panel and then select a group name on the drop-down menu.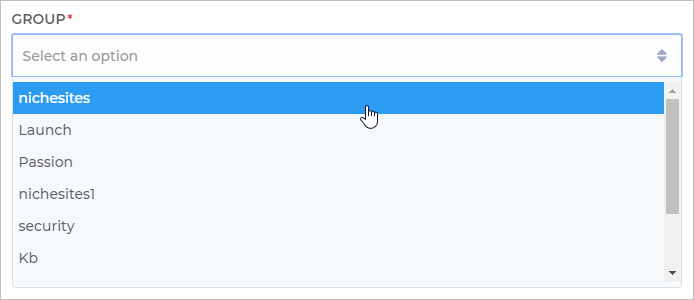 To create a new group, click the New Group button, and then enter a unique name.

Selecting a client
You must connect a new site to a client.
Click the window below CLIENT and then select an option on the drop-down menu.

Adding the site
The last step is to click the Add Site button at the bottom of the page.
After a few seconds, a popup box displays a checkmark and provides installation information.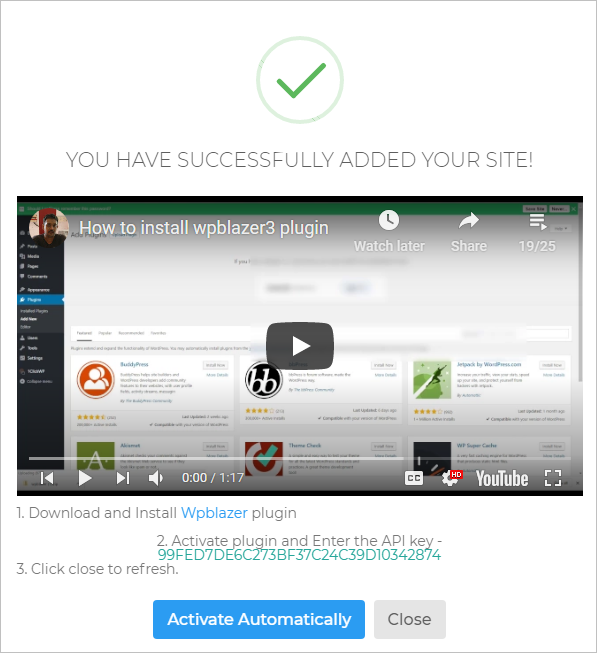 Installing the WPBlazer plugin
Up to this point, you have added a new site to WPBlazer platform. The next step is to connect your site to the platform with the WPBlazer plugin.
There are two plugin install options: automatic and manual.
Automatic install
On the popup box, click the Activate Automatically button. A popup box -- Activate at your site -- displays.
Enter your site's username/email and password and then click the Activate button.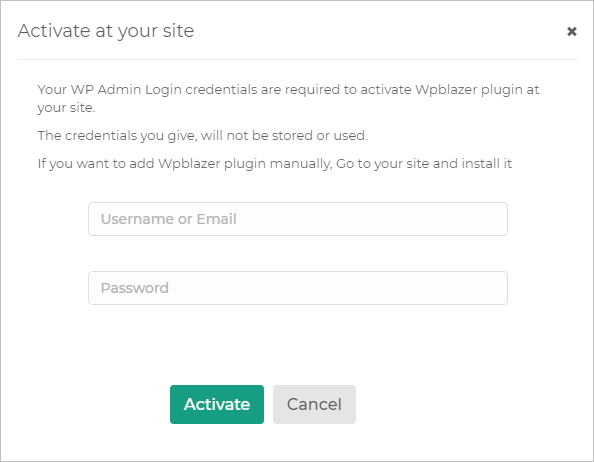 Manual install
You can also manually install the plugin. It's a two-step process.
Step 1 Upload the plugin
On the popup box, click the Download and Install plugin button. A WPBlazer zip folder downloads to your computer.
Move the folder to an easy to remember location on your computer.
In a new browser tab, open your WordPress site's dashboard.
Click Plugins on the menu and then click Add New.
Click the Upload Plugin button at the top of the page.
Click Choose File and then select the wpblazer zip file on your computer.
Click Open and then Install Now.
After the plugin installs, click the Activate Plugin button.
Step 2 Enter the API key
On the dashboard menu, click the WP Blazer menu item.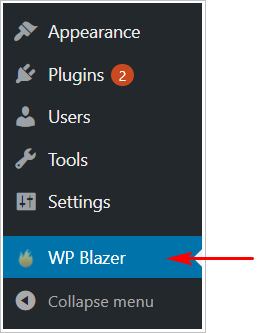 Copy the API key from the popup box and paste it into the field.

Click the Save Settings button.