WPBlazer's social signals tool tracks content engagement in the social media universe.
A social signal is a measurable reaction to your content on social media. Likes, views, pins, and shares are examples of signals. The more social signals you get, the more popular the content. Online popularity - which is called social SEO -- is bound to generate hits on your website.
Social signals likely play a role in page ranking, too. Though the ingredients that go into Google's page ranking algorithm are a well-guarded secret sauce, many SEO experts believe social SEO has an impact on page ranking.
Opening the social signals page
From the WPBlazer app dashboard, select a site and then click the Dashboard icon. A new page displays.

On the new page, hover the mouse pointer on the menu icon that sits third from the top.
On the popup panel, click Social Signals. A new page displays.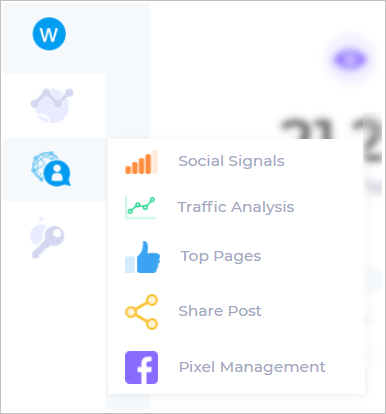 Viewing the data
Click the Update Signals button at the top of the page to refresh the data.

At the bottom of the page, a table lists the number of social media engagements for each website page for several platforms.
Click the arrows to sort data or use the Search tool to find a specific page.
The top of the page presents table information in a line graph.