Like most software, WordPress plugins should be updated from time to time. These changes are typically needed to improve security or functionality. If you manage multiple sites, updating plugins on a consistent basis can be a challenge.
WPBlazer simplifies that work by updating plugins on multiple sites from a single dashboard.
Getting ready
Before updating your plugins, you need to know how to select a site or sites. For more information, read:
Opening the update page
On the WPBlazer dashboard, select the site (or sites) you want to update. Click the Action button and then select Plugin Updates. A new page displays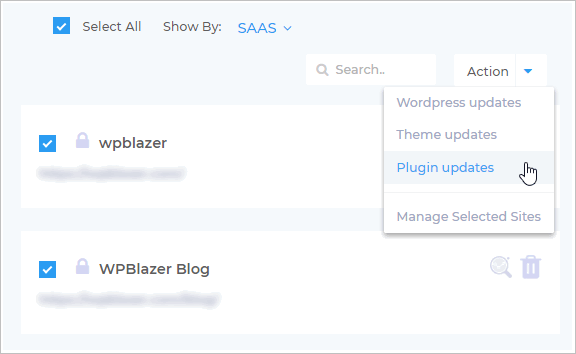 The new page lists plugins with an available update and related sites. Uncheck the boxes for plugins or sites that you don't want to update.
Click the Plugin Update All button at the top of the page. The selected plugins update.